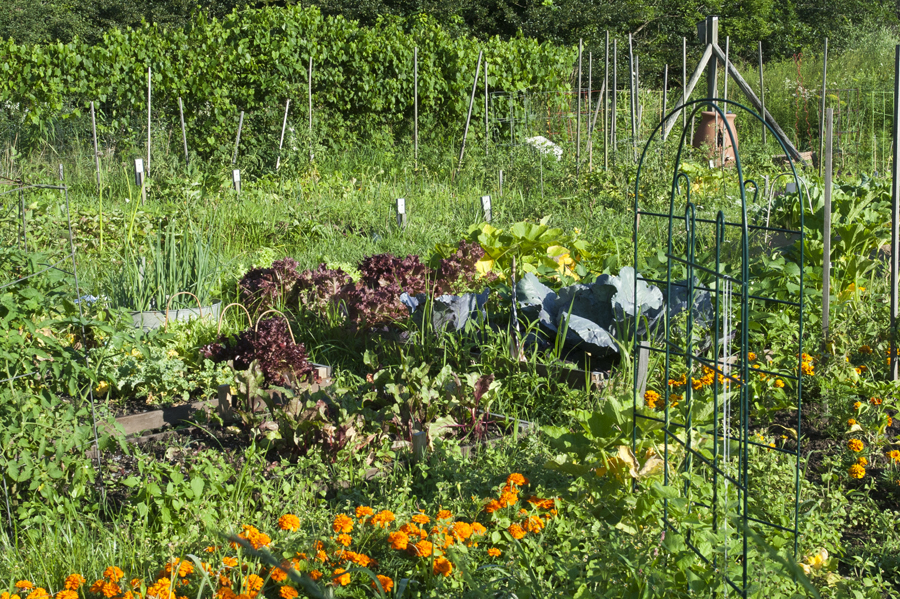 The Community Garden, located under the power lines off Canyon View Road across from Juniper Hill, is provided by the Greenwood Garden Committee for residents to raise fresh vegetables and other annuals during the growing season. The garden was expanded in 2013 to accommodate the increasing demand for plots. News and information about the garden is also available at the the garden website:
http://groups.yahoo.com/group/Greenwood_Garden.
The garden is operated and maintained by volunteers who roto-till, lay out plots and install fencing and water taps. Additionally, the Garden Committee organizes, communicates and coordinates the "rental" of these plots to Greenwood residents and assists those residents in setting up their garden plots.
Each year the committee provides a process for renting a plot and maintains a wait list when all plots have been rented. The cost for renting these plots is $20.00 per year and is available only for Greenwood residents. For information on renting a plot please contact the Greenwood Office 330-467-7036 or email the garden committee at greenwood_garden-subscribe@yahoogroups.com.
Garden News and Information
2014 Greenwood Garden Plots
Tired of winter? Plan now to join the community garden and grow vegetables and flowers for your own delight and palate.
Returning Gardeners:
Please renew your plots by March 10.
Pay by March 30 ($20 for first plot, $25 for an additional plot, make checks payable to 'GVCA').
After March 10, returning gardeners desiring additional plots (max 2 total) may apply. Use the website to aid in arranging/trading for adjacent plots.
New Gardeners:
Prior to renting a plot you must register your name, Greenwood address and email at the Garden website:
After March 30 you may apply for plots. Experienced gardeners are available to help those trying gardening for the first time.
All Gardeners:
You must stop by the GVCA office to pick up a notice from the garden committee before you are considered registered.
Other transactions may be handled by calling or emailing (gvca_office@yahoo.com) the GVCA office to give us your name, phone number, and email address.
We will go down the list and contact you as plots become available. All plots not paid for by May 1 will revert to the available pool.
Past Gardening Seminars:
Creating Safe & Affordable Organic Lawns
Presented by: Beyond Pesticides Ohio in Partnership with Greenwood Village Community Association Landscape Committee and Nordonia Hills Garden Club
WHAT: A free how to training session on why and how to implement an affordable organic turf care program.
WHY: We can protect our health, the environment, and save money by transitioning to organic turf practices.
Wednesday, February 19, 2014, 6:30 to 8:30 pm
Greenwood Village Community Association Clubhouse
The Power of Pollinators & Plants for Bees
When: Monday, Oct. 22, 2013 7:30 p.m
Where: GVCA Clubhouse Garden Room
Join our guest speaker, Denise Ellsworth from Ohio State University to hear about the major pollinators in Ohio, why they are so important, and how they are threatened. Learn about the favorite plants of bees and some simple changes you can make in your garden or flowerbed to help native pollinators and honey bees.
Sponsored by the GVCA Landscape Committee.