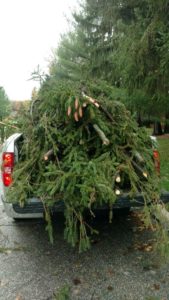 Here are some pictures of the storm damage around Greenwood:
We did have two trees fall on homes, one in Condo 4, and one on a single Family Home nearby. The other fallen trees were in the woods or on the roads. Greenwood crew spent last night and this morning cleaning up fallen branches and trees.
All the roads in Greenwood have been cleared and are now open, but use caution when driving, leaves can make the road slippery. If you see a dangerous tree situation, please let your condominium association or the GVCA office know the exact location. Other areas of Sagamore Hills had more damage and downed power lines, especially along Valley View Road and in Eaton Estates (click to see Eaton Estates photos). After every storm, we are thankful Greenwood's developers buried all our power lines.