Dear Greenwood Hikers,
Given the current situation, the Waterfall Hike listed in the newsletter for Saturday, 3/21, is cancelled.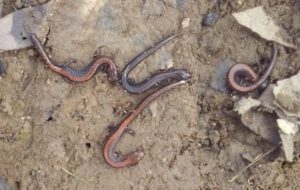 If we were hiking, I would have shown you these cute tiny salamanders I found not far from the waterfall, hiding under a piece of wood. (I put it back so they could continue hibernating.) Last night the spring peepers were singing in the woods, right on time for the first day of spring.
I look forward to rescheduling this hike once everything returns to normal. Until then, stay safe, stay happy, and enjoy the outdoors.
Scott K., GVCA Manager