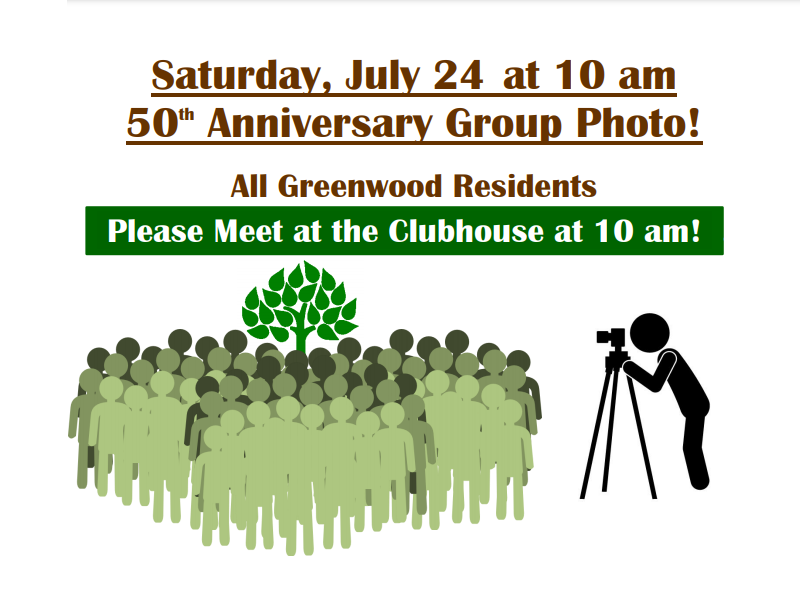 All residents, please come for a group photo at the Clubhouse on Saturday morning to celebrate the 50th anniversary of Greenwood Village. Bring this completed sign-up form with you to speed up the check-in which will be near the parking lot. This historic photo of Greenwood's 2021 residents will be shared on our website and newsletter, displayed at the Summer Picnic and Pool Party later that evening., and e-mailed to participants.
Reminder: If you have photos of early Greenwood, please bring them along to the photo shoot, and bring them to the summer picnic later that evening. If you are concerned about possible damage to the originals, please bring them to the Clubhouse between now and Thursday, July 22, and we will scan them and print a copy to share at the picnic.
EVERYONE, please fill out the form on the back side of this flyer completely, Please be sure to spell your name clearly, as well as your e-mail address. We will be e-mailing a copy of the photos to everyone who participates.
Bring the form to the check-in table near the parking lot, where you will be provided with a numbered card to hold up, so we can identify everyone in the photo, and to aid the photographer in arranging the group for the photo shoot.
GVCA Board Members, please meet at 9:15 am for an early "Current GVCA Board Members Photo Shoot".
If you were a Past GVCA Board Member, please meet at 9:30 am for an early "All GVCA Board Members Photo Shoot".